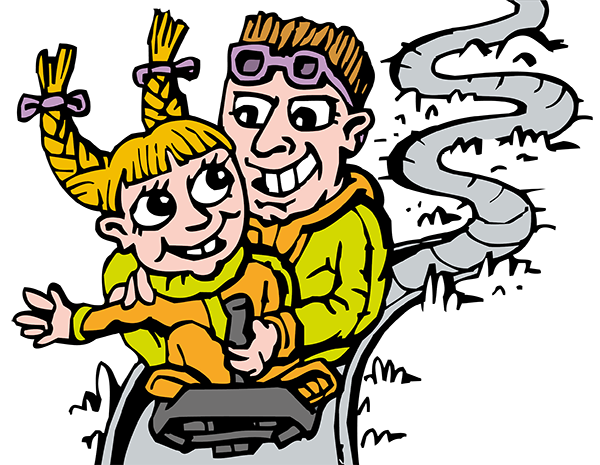 The toboggan run is more suitable for sportier types and, unlike the Alpine coaster, it is essential to BRAKE at the end of the track! It does not have automatic brakes!
Sit on the toboggan individually or in pairs.
Riders must keep their seat belts fastened for the duration of the ride (applies to the Alpine coaster).
Do not lie, stand, kneel or turn around on the toboggans, and please do not smoke.
Riding under the influence of alcohol or drugs is strictly prohibited.
The use of mobile phones, cameras, video cameras and selfie sticks is prohibited.
Check your clothing, pockets and bags to make sure that they have not become caught under the toboggan during the ride and that you have not lost anything.
Staff will start you off and the toboggan will then automatically connect to the ski lift.
While riding the ski lift (it is approx. 3 minutes to the top), you do not have to hold the lever.
At the top, when entering the toboggan run, hold the lever in front of you to start off (Controlling the lever with a part of the body other than the hands is prohibited).
By pulling the lever towards you, you will begin to brake (Caution! It is strictly prohibited to stop on the track. This endangers yourself and others).
Watch riders in front of you and maintain a distance of 25 m (50 m when wet).
Lean into bends.
It is important to brake at the end of the track.
You will slow down on the braking belt. The belt will not bring you to a halt, but only moves the toboggans forwards (Applies to the Bobsleigh Track).
Do not forget that when wet (rain, snow and dew) the braking distance is longer and the toboggan may "float" (applies to the Bobsleigh Track).